Jeff Pedro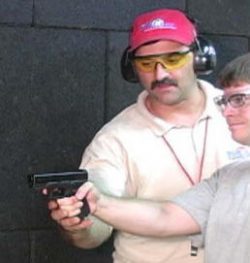 Jeff is the founder and owner of SimTrainer. He recently retired after serving 25 years as a Kettering Police Officer which included twelve years in Patrol, ten years in Training and Personnel, three years as a Detective, twelve years as a part-time SWAT team member, and seven years as a Field Training Officer. He also served four years on the Board of Directors of the Ohio Tactical Officers Association. Throughout his police career, Jeff was involved in the development and delivery of high quality training in the areas of firearms, defensive tactics, and officer safety training. He was instrumental in the development and implementation of rapid response tactics to active shooter incidents for police departments at the local and regional levels. His training is still frequently rated as some of the best training officers have attended. Jeff completed his Bachelor of Science degree in Criminal Justice at Southern Illinois University in 1985, and he completed 36 hours of graduate coursework in Junior and Community College Teaching while serving as a campus police officer before joining the Kettering PD. Jeff served as a police academy instructor at Sinclair Community College from 1992 to 2004, and he served as a part-time academy commander from 2000 to 2004. He also delivered training presentations at three American Society of Law Enforcement Trainers annual conferences and one presentation at the National Association of Field Training Officers annual meeting. He has also delivered Instructor-level training at OPOTA and at various locations around the country. Jeff is also an OPOTA-certified Police and Private Security firearms requalification instructor for handgun, shotgun, and rifle. He is also an NRA-certified Basic Pistol instructor. He has attended advanced firearms training courses at IALEFI, TDI, and the Mid South Institute for Self Defense Shooting.
Jeff is certified in the following areas:
OPOTA Basic Academy Unit Instructor
OPOTA Basic Academy Commander
OPOTA Pistol Instructor
OPOTA Shotgun Instructor
OPOTA Patrol Rifle Instructor
OPOTA Defensive Tactics Instructor
OPOTA Instructional Skills Trainer
TASER Master Instructor Trainer
NTOA Simulation Instructor
NTOA Less Lethal Munitions Instructor
NHTSA SFST Instructor
R.A.D. Instructor
Ethics Train-the-Trainer
Certified Field Training Officer
Jeff is a highly sought trainer who uses innovative, progressive training methods to improve performance.
Mark Avery
Mark Avery is the senior staff NRA-certified instructor at SimTrainer. A shooter for over 40 years, he received his first NRA course as a Boy Scout. He has an undergraduate degree in Education from Northern Arizona University and Masters from The George Washington University. After serving 20 years as an officer in the United States Air Force, Mark began advanced tactical handgun training at SimTrainer with the Carrying Concealed Weapons course. He completed all the advanced courses offered, then began to assist with range safety and course instruction. Mark received his NRA Instructor certification in 2007 and began serving as principal instructor for several SimTrainer classes.
In addition to serving as course instructor, Mark also maintains the SimTrainer web site, introduced the First Shots program to SimTrainer as the first program Great Lakes region, and helps run shooters through the Tuesday Tactical Training League as range officer.
Ken Waughtal
Ken Waughtal is a staff NRA-certified instructor at SimTrainer. As a member of the military, Ken has trained, advised, and assisted foreign infantry companies in basic rifle marksmanship, live-fire exercises, and combat patrols. He has also conducted pistol classes for foreign national officers. Ken received his NRA Instructor certification in 2007 and began serving as an instructor for several SimTrainer classes.