Our Philosophy
Our mission is to provide an educational and recreational facility for developing and promoting the sport of shooting, and emphasizing safe, responsible and legal firearms ownership and use.
What to Expect
The facility includes: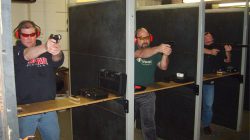 A state-of-the-art indoor pistol and rifle firing range for both police and civilian members.
Ten 65-foot lanes with a mechanical target retrieval system.
A ventilation system for your comfort and safety.
Retail store featuring guns and accessories.
The range is available to members for recreational shooting about 50 hours a week. In addition, we offer competitive shooting events and leagues on a regular basis. For those interested, we also offer:
Firearms Training courses.
Personal Safety courses.
Private Shooting Lessons.
SimTrainer is a membership range. Classes, lessons, and our Competitive League are all open to anyone who cares to participate. Recreational shooting is open to all members. There are no hourly rates for shooting except as associated with a private or small group lesson, which we are happy to arrange by appointment. Membership is open to anyone legally permitted to possess firearms. More details are available on our membership information page.