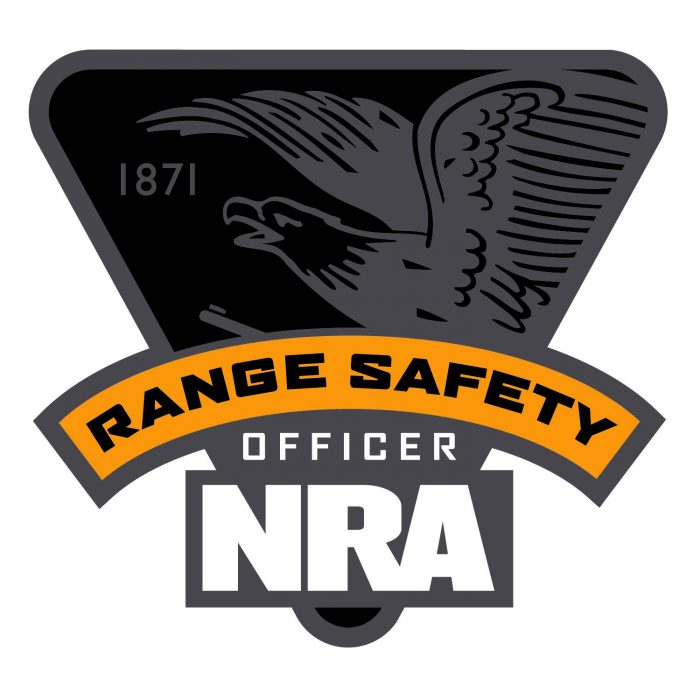 NRA Range Safety Office Course
8 hrs. / $115.00
No Live Ammunition, Percussion Caps, Propellants, or Projectiles allowed in the Classroom.
This includes Concealed handguns and concealed carry license holders or those carrying permit less. This is for your safety since we will be handling guns in the classroom.
Do not handle, unholster, unbag or unbox any firearms in the classroom unless directed to do so by an instructor or range safety officer.
Course Objective:
To develop NRA Certified Range Safety Officers who possess the knowledge, skills, and attitude essential to organizing, conducting, and supervising safe shooting activities and range operations.
Subjects Include:
-Defining the role of the Range Safety Officer (RSO).
-The purpose of range Standard Operating Procedures (SOP).
-Procedures for inspecting a range prior to live fire.
-Conducting a range safety briefing.
-Emergency procedures.
-How to safely unload guns and correct stoppages and malfunctions.
Certification Requirements:
-21 years old or older.
-Attend the entire course.
-Participate in discussions and practical exercises.
-Demonstrate knowledge, skills, and attitude necessary to organize, conduct, and supervise safe shooting activities and range operations.
-Achieve an examination score of 90% or higher.
-Finalize credentialing at nrainstructors.org (cost $30-$50 depending on NRA membership status
-NRA membership is recommended ahead of time. Bring your NRA Member number, it will become your instructor number.
What to expect:
-We will break about every hour
-Class is 9a – 6p. You are expected to be in the class or range the whole time the class is in session.
-Class will be roughly 6 hours in the classroom and 2 hours on the range.
-Written or oral exam (90% score required)
-Practical demonstration of skills showing safe loading, unloading, shooting, range management and running a course of fire.
What to bring:
-100 rounds of CLEAN FIRE ammo (available for purchase at the range if needed)
-We typically have 9mm and .45 on the shelves.
-If you are shooting something other than 9mm, call to be sure we have it ahead of time.
-Handgun of your choice for practice running a course of fire
-Strong side (no cross-draw, appendix ok) holster fitted for your gun that allows reholster without collapsing. No Serpa style
-An appropriate belt designed for firearm carry that permits proper draw and reholster
-Electronic ear protection (If you don't have it, it will be provided)
-Eye protection (If you don't have it, it will be provided)
-Device to take notes (and spare batteries or power adapter).
-Or print out the PPT (~200 pages)
-You will be sent a link to download the PPT when your payment is complete.
-Two magazines or speed loaders with at least 12 round capacity each
-Suggested spare magazine carrier for belt or pocket
-Plans for lunch. 30 minutes 1-1:30p. There is fast food available 5 minutes from the range.
Registration for the course on the NRA site.   NRA Range Safety Officer Course
-This only reserves your spot temporarily.
-To guarantee your spot, you must call the range or stop by to make payment during our normal business hours.
This course is taught by an NRA certified CRSO certified instructor, and it meets the requirements for SimTrainer and other ranges for conducting live fire exercises.
Please note that this course is not primarily a firearms course. You are expected to be competent in safe handling, shooting and use of a holster for your gun prior to class. Please do not preload your magazines or speed loaders before coming to the range!
For all day classes, there will be a half-hour lunch break at 1:00 PM. Students are invited to bring lunch, order lunch for prepaid delivery to SimTrainer, or go out and return before class is back in session. Water, coffee, and some soft drinks are available for purchase at the range.
Upcoming Classes
To register, select the class on your desired date.
Cancellation Policy
SimTrainer will not issue refunds for any training course registrations.  Registrants will be permitted to reschedule to a future course provided they give at least 48 hour notice AND pay a $25 rescheduling fee.

No Classes