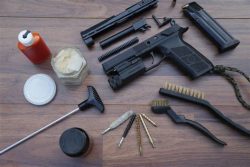 Handgun Cleaning
2 hrs. /
$25.00
***No discounts can be applied to already discounted memberships, classes or other items sold at the range.
One of the most neglected, but potentially most important, aspects of those who enjoy the shooting sports is cleaning their gun.  Dirty guns are much more likely to malfunction than those that are cleaned on a regular basis, so it is important to clean your firearm often.  Perhaps the most cited reason for not cleaning is that shooters claim it takes too long and/or they do not have the time.  In reality, once you know how to clean your gun, it is quite easy and does not take much time at all.  This class will teach you the most efficient way to clean and lubricate your handgun.  Registrants should read their owner's manual before coming to class and bring the manual with you when you come to class since some guns have particular protocols for disassembly, cleaning, lubricating, and reassembly.  Registrants should also bring their own cleaning kit with solvent, lubricating oil, brush, patches, and cleaning rod and accessories.  Cleaning kits can be purchased at the range prior to the class. 
Upcoming Classes
To register, select the class on your desired date.
Cancellation Policy
SimTrainer will not issue refunds for any training course registrations.  Registrants will be permitted to reschedule to a future course provided they give at least 48 hour notice AND pay a $25 rescheduling fee.

No Classes