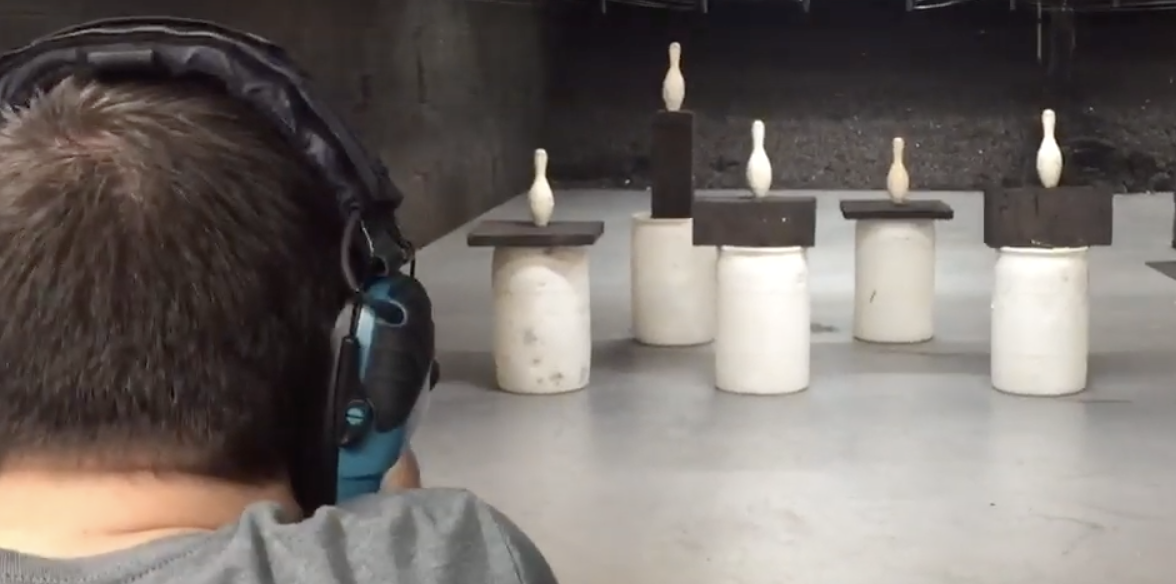 From the 10.7.19 shoot – and his previous two runs were 2.74 and 2.75… Wow!
Bowling pin shoots will be held on the 2nd and 4th Mondays of the month beginning in January 2020 unless there is a holiday or training class conflict. Please check the Range calendar for schedule changes
Please remember to register for the events below, that way we can ensure proper staff are available for the event. The event will only move forward if there are 5 or more participants registered by the day before.
MONDAYS 6-9pm: $5 if ammo is purchased at the range on the night of the event.  Otherwise, the fee will be $10 for those providing their own ammo (REGISTER BELOW! Only those who register online will receive weekly results via email)
*This fast paced event requires shooters to shoot racks of 5 pins as fast as you can.  Each shooter will shoot 10 times and your total time is your score.  Lowest time is the winner.  Each week, the top three shooters will be listed on the website under the Activities/Bowling Pin Shoot dropdown tab.
REGISTER FOR THE EVENTS
To register, select the class on your desired date.
No Classes
SEE YOUR SCORES
3/9/2020
Rob Trucelli          34.97
Marc Troike          36.26
Jeff Pedro              37.53
James Patton        39.82
James Tweed        49.90
Mark Avery            52.11
Jerry Mays             71.08
Carl Doncaster      92.87
Larry Weissman   92.97
2/24/2020
James Patton       29.18
Russ Seese            36.16
Rob Truscelli       37.56
Grey Judy             45.76
Jerry Mays           49.95
Phil Ayers             61.33
Greg Mays            69.05
Joe Couto             78.63
Carl Doncaster    83.06
Haley Wright     152.68
2/10/2020
James Patton     30.29
Jerry Mays          60.49
Carl Doncaster  80.06
Phil Ayers            97.16
1/27/2020
James Patton     32.86
Jeff Pedro           34.13
Rob Trucelli         35.68
Jerry Mays          42.41
Russ Seese         46.38
Phil Ayers            87.07
Larry Weisman  131.04
Jay Cavender     171.06
1/20/2020
Grey Judy            27.92
Jerry Mays          37.77
James Patton     39.27
Russ Seese         39.52
Phil Ayers            76.02
Jay Cavender     184.35