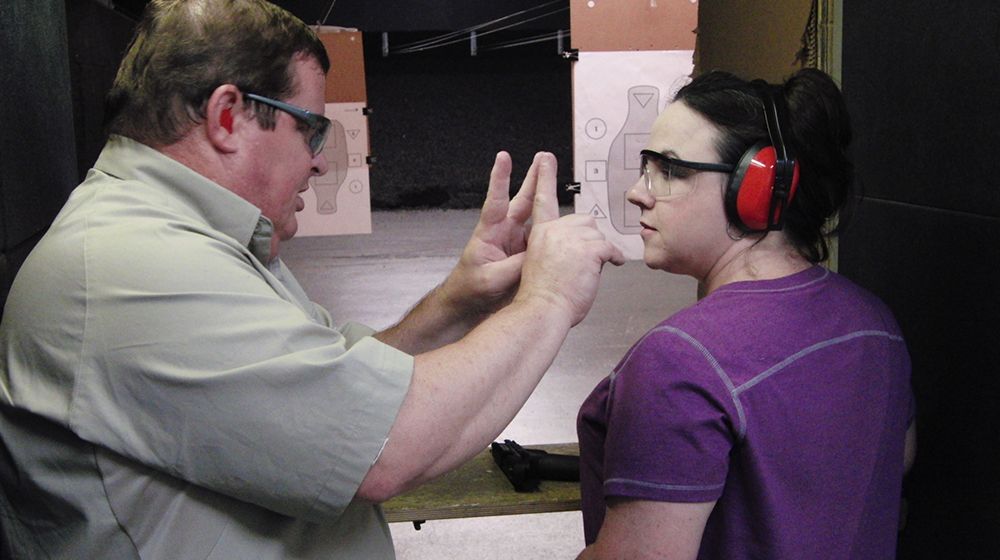 Basic Handgun Safety and Familiarization
4 hrs. / $100.00 (plus the price of ammo)
Purchase Basic Handgun and Concealed Carry at the same time and get BOTH for $150 ($50 Savings!)
This basic orientation course is designed for those not very familiar handguns and is an excellent "next step" after the First Shots class. Students will receive training in the safe handling and operation of a variety of the most popular (Glock, Smith and Wesson, Springfield, and Ruger, among others) revolvers and semi-automatic pistols, handgun and range safety rules and protocols, marksmanship principles, and firing proficiency with handguns. This course will involve classroom lecture and live fire training on a state-of-the-art indoor firing range. Students can provide their own handgun, holster and ear/eye protection or use those provided by SimTrainer. In addition, students will need up to 150 rounds of factory-manufactured jacketed ammunition. Ammo can be purchased on site.
Note: The content of this class can also be covered in an individual or group (2-4) private lesson at the rate of $50/hour per student (more details available here). Course length will typically be about two hours to cover the same content with an individual or small group, so the cost is approximately the same.
Schedule:
Sun, Jan 8, 2017 – 5-9pm
Wed, Jan 18, 2017 – 6-10pm
Sun, Feb 5, 2017 – 5-9pm
Wed, Feb 15, 2017 – 6-10pm
Sun, Mar 5, 2017 – 5-9pm
Wed, Mar 16, 2017 – 6-10pm
Upcoming Classes
To register, select the class on your desired date.